Past Players & Supporters Association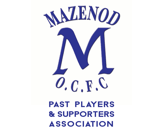 Established in 2013 the purpose of the Mazenod OCFC Past Players and Supporters Association is to provide a vehicle for past players and supporters to maintain a connection with the Club and a forum to meet other past players.
Since 2013 the Association conducts a major reunion function each year. In 2014 and 2015 this took the form of a Friday luncheon at the MCG and in 2015, 2016 we moved to the RACV Club in the Melbourne CBD. In 2018 we will assist the committee organising a gala function to celebrate the Club's 40th anniversary. We also support Premiership reunions.
While the primary purpose of the Association is not to raise money, the luncheons have enabled us to provide funds for the football club. Where possible we partner the committee to support an annual infrastructure priority. E.g. In 2017 we provided $3,900 for the clubs new website.
The Association has also enhanced the target audience of Mazenod OCFC Communications by tracking down over 400 email addresses of past players. Additionally in 2016 the Association and several of its key members created Digital Collages which represent each decade of the clubs history. These hang proudly in the clubrooms.
Over the past few years Past players have filled the roles of Reserves Coach, Under 19 Coach, Chairman of Selectors and President. Past Players are often parents of current players and this cycle provides a lovely rhythm for the club, its values and volunteer base.
We welcome contact and ideas from our Past Players and Supporters Community.
Executive Committee
President: Chris Belleville chris@nugents.com.au 0408 583 655
Vice President: Mark Grady m.pgrady@bigpond.com.au 0407 955 391
Secretary: Gerard Noone Gerard.noone@ghd.com 0400 169 512
Treasurer: Tim Smith tim@egoprint.com 0400 638 058
General Committee
Drew O'Donoghue Drew@brandonelectrical.com.au 0438324619
Steve Stanley sjestanley@yahoo.com
Shannon Morgan Shannon.Morgan@adidas.com
Stewie McMullin stewartmcmullin@gmail.com 0418 542 188