Mazenod Panthers
Mazenod Panthers teams cater for all people with an intellectual disability regardless of ability, in one of our two teams playing in the AFLVIC/Football Integration Development Association (AFLVIC/FIDA), in a competition of 16 clubs throughout Victoria. Games are played every second Sunday during the football season and finals during August. Training is held every Wednesday night (pre-season at Mazenod College, Mulgrave and during season at Central Reserve, Glen Waverley).
The purpose of the All Abilities teams is to enable access for people with disability to the game of Australian Rules football. The club vision is to create the best All Abilities football experience and by doing this thus allowing each participant to become the best they can be.
Success for our team is not necessarily by games won, but by the progress of many players with coordination and body movement, and the confidence to achieve many of life skills through integration with the general community.
If you or someone in your care is interested in trying us out, please do not hesitate to contact our Recruitment Manager Michael Regan on panthers.recruitment@mazenodfc.com.auor mobile: 0421991984. Note that potential players are more than welcome to join us at training to try us out on a "no obligation" basis.
---
Coaches
Josh Crook – Division 2 Coach
Josh is currently coach of the Club's Blue Division 2 team. Josh's is a massive supporter of the club ethos and works with each player on a continual improvement basis on both footy and life skills.
Josh became involved at the club through his brother, Toby. Josh was originally a spectator of the Panthers doing odd jobs (like goal umpiring). Josh began acting as a Runner and part-time Trainer 3 years ago and helped coach training last year. Josh started coaching the Panthers this year.
Josh also assists at the Croydon Rangers cricket club, where his brother and other Panthers play cricket in the Melbourne All Abilities Cricket Association.
Outside of the Panthers, Josh is a successful lawyer working at a large international firm.
For further details on Josh's involvement with the Panthers see - https://juliandinezza.com/2018/06/06/the-extraordinary-on-any-given-sunday/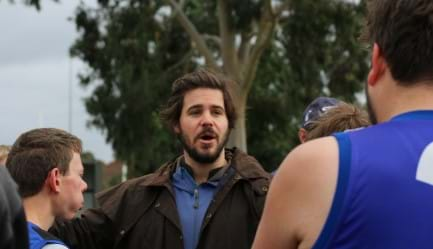 Andrew Fry – Division 4 Team
Andrew re-joined the coaching ranks in 2018 where he proudly took on our Division 4 team. Andrew takes pride in working with each player individually to set goals specific to that individual such as getting their first hand ball or getting their first goal. Andrew's ability to recognise the needs of individual players comes from a long and distinguished career coaching both footballers and cricketers. Outside of Mazenod, Andrew coaches All Abilities cricket at Moorabbin.
Away from footy and cricket Andrew is a proud family man. He and Robyn have 2 boys. Career wise, Andrew has carved out a successful career as an electrician.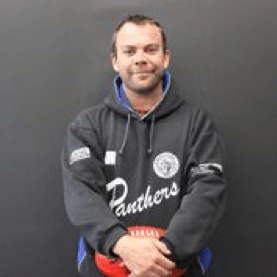 Michael Regan – Training and Conditioning Coach
Michael has played 10+ years for Mazenod Old Collegians Football and Cricket Clubs. A former student and teacher at the college, Michael is passionate about the Mazenod community. Michael works for Port Adelaide Football Club in recruiting, and is keen to make sure that every member of the Panthers improves their football, while enjoying being part of a team and community.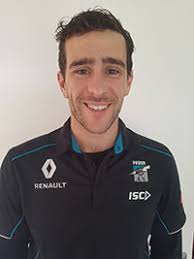 Mathew Giuliano – Training Coach
Mathew is a volunteer training coach who joined us in 2018. His role at the Panthers is to conduct and assist with the various aspects of training. Part of this role is to ensure the continuous development of all players at a footballing and social level, whilst making all aspects of training fun and engaging. Mathew became involved with the club through the Mazenod Old Collegians Football Club and provides as the strong link between Panthers and Mazenod Old Collegians playing group. Outside of football, Mathew is in his final year of a Law and Commerce degree and works part-time within the finance industry.
---
Player Eligibility
The Eligibility rules are quite specific. Below is an excerpt from the AFLVIC/FIDA Rulebook on player eligibility.
1. For a player to be eligible to participate in the competition, he or she must meet two (2) of the following requirements.
a) Attended a Special School
b) Attended a Mainstream School with a Teacher's Aide
c) Have proof of a disability pension for an intellectual disability
d) Be registered with a disability service
2. Players who do not meet the above criteria but believe they should be considered to participate in the VFFL can apply to the AFL Victoria FIDA Football & AAA Programs Manager for an exemption. The AFL Victoria FIDA Football & AAA Programs Manager can grant an exemption at their absolute discretion.
---
Committee
The Panthers is supported by a strong and vibrant committee:
Role

Name

Email

Mobile

President

Phil Ryan

0408 142 250

Vice President

Sue Soles

TBA

Team Coordinator

Lisa Carpenter

0488 513 502

Secretary

Tracey Ryan

0417 030 470

Treasurer

Roger Carpenter

0467 513 502

Player Welfare

Michael Scammell

0448 026 147

Canteen / Catering

Steve Paolucci

0419 375 435

General Members

Peter Dowell

Christine Hants

Greg Hants

Kevin Johnson

Sue Johnson

Via secretary:

panthers.secretary@mazenodfc.com.au

N/A
All Committee members and Coaching staff have working with Children checks.
---
---
Social Club Memberships – how you can help
Want to help the Panthers but not sure how. Please consider a 'social membership'. For the price of a round of drinks ($25) you can make a meaningful difference to the Panthers and in the first year we include a Panther Polo for you to wear with pride.
To buy a Panther's social membership, follow this link: https://www.mazenodfc.com.au/shop/membership/panthers-social-membership
---
Key Dates for Panthers in 2019
Event/Details

Day/Date/Time

Detailed fixture

Fixtures for 2019 found here: http://websites.sportstg.com/assoc_page.cgi?c=1-8408-0-0-0&a=COMPS&seasonID=5917072

(Proposed) Toyota Good for Footy Night

Wednesday, 15th May 2019, 5.30pm

Founder's Day Round

Sunday, 26th May 2019, refer http://websites.sportstg.com/assoc_page.cgi?c=1-8408-0-0-0&a=COMPS&seasonID=5917072

Mazenod Comedy for a Cause Fundraiser at Mazenod College

Saturday, 25th May 2019, 7.30pm

Preliminary Finals

Sunday, 18th August 2019, TBA

Grand Finals

Sunday, 25th August 2019, TBA

Panthers Presentation Night

Mulgrave Country Club

Friday, 30th August 2019, 7pm
---
Brief History
During 2004 recreational Manager at the Oakleigh Centre Mrs Yvonne Skoda was approached by the Football Integration Development Association (FIDA) along with the Victorian Amateur Football Association (VAFA) on the possibility of forming a football team in and around the local area that had not previously been covered by FIDA. Yvonne then approached volunteers within the Centre to maybe investigate and form a football team of people with intellectual disabilities to compete in the FIDA competition. After a successful meeting early in 2005 between FIDA, VAFA, Mazenod Old Collegians Football Club and volunteers from the Oakleigh Centre, the Mazenod Panthers Football Club was formed and played our first game in season 2005 in Division 3 with a team of 12 players mainly all from the Oakleigh Centre. In a recruitment effort, team co-ordinator Andrew Sharp visited Emerson Special School in Dandenong, and after discussions with school sports master Scott Tucker a need for this type team activity was discussed as a great integration program for special school students both past and present. Scott was then able to recruit several players with ability to enable the Mazenod Panthers to field a second team in a higher division of the FIDA competition. With the involvement of volunteers Ron Dovaston, Alf Duijkers, Yvonne Skoda and parents of our team, along with our generous sponsors Glenn Tilling, Cameron Sharp and the Oakleigh Centre, we were able to purchase two sets of jumpers to complete our first season in the competition with two teams and successfully winning the premiership in Division 2.
---
Club President: Phil Ryan
Contact on mobile 0408 142 250 or email: panthers.president@mazenodfc.com.au
---