Thirds Kick off Finals Season with a Thriller!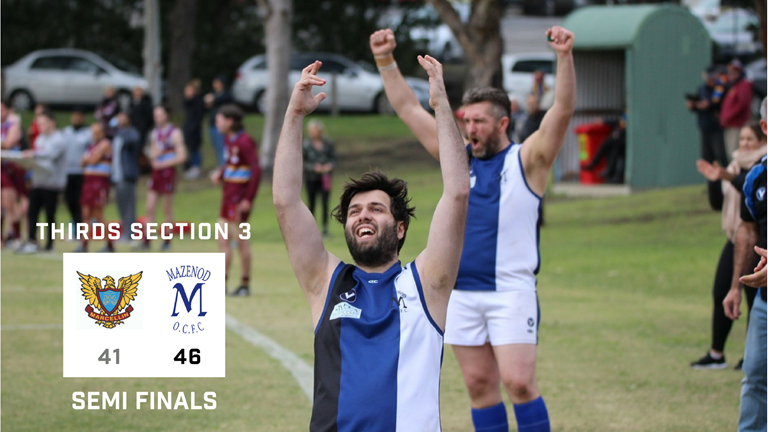 17 Aug | Kevin Nguyen
The Mazenod OC Thirds have kicked started the finals season with a thrilling win over Marcellin OC last week in the second semi final for the Thirds.
With Marcellin finishing 3rd, the team were looking to a very long and arduous finals match, considering every match up in the regular season had results fall the way of the Marcellin Old Collegians. The first match up between the two teams in Round 4 saw a close finish, with a margin of 2 points going to Marcellin, while the second game was a much more convincing finish for Marcellin, thumping Mazenod by 35 points at Central in Round 9.
The start of the semi-final was very much similar, with the first quarter seeing the team from Bulleen slotting 2 goals, to Mazenod's 1. However, Marcellin also saw many missed opportunities, scoring 4 behinds also in the first quarter.
However, the second quarter saw a slower start from the home team, as Mazenod booted 2.3 to Marcellin's 1 goal to level it all up at 22-all by half time.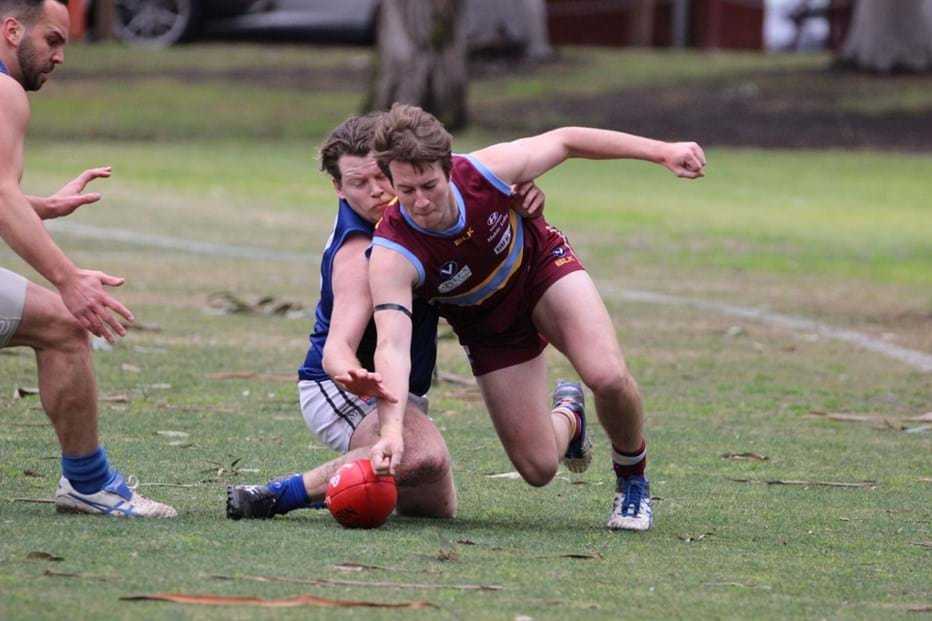 The third quarter saw the Thirds lose Klavins and Acciarito during the match. Adding into the missed chances from the Nodders gave Marcellin a chance to open up the game a little, kicking 2.4 to Mazenod's 1.6 by the end of the 3rd quarter with a 4 point lead going into the final minutes of the game.
Going into the final quarter, the Thirds knew the result would be a very close one and the aim was clear: to repeat their amazing performance in the 2nd quarter, having already been able to do so in the 2nd quarter. It was only in the final 5 minutes that Mazenod were able to take the lead, kicking a very long overdue goal. Having being able to hold off the offensive from Marcellin until the final siren became the sweet finish Coach Thomas De Yong was looking for.
"We only hit the front in the last 5 minutes then our backline had to hold off Marcellin to secure the win. The boys knew our goal and our objective and ensured it was executed well."
Next week: Mazenod Thirds face Old Carey away at the Carey Sporting Complex at 11.40am.
Goal Kickers: S. Davis 4, M. De Bono, A. Di Petta
Best Players: A. Noone, S. Mann, S. Oldman, D. MacLeod, N. Gentile, R. Kaye