Head Coach Steps Down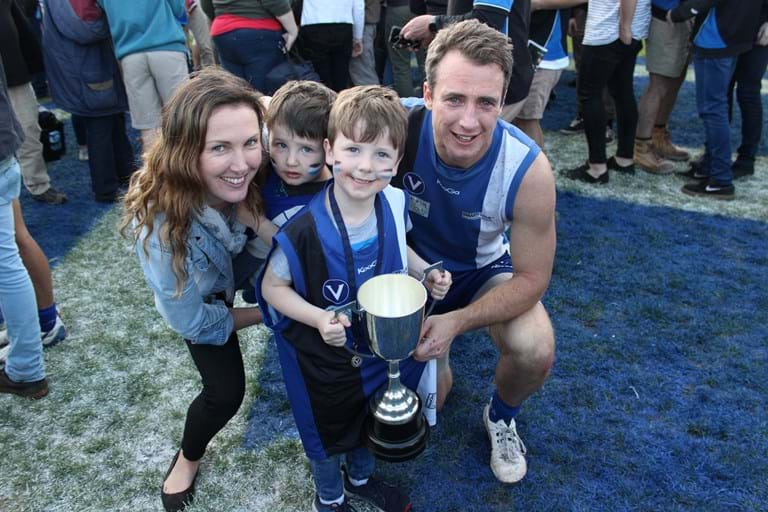 Senior Football Coach, Ben Phibbs has officially informed the Club that he will step down as Head Coach at the end of the 2018 Season to spend more time with his young family.
"I am really proud of how far the Club and the boys have come since I first started. But it feels like the right time to finally change focus in my life and begin a new and exciting chapter."
Ben was the outstanding candidate when the club was searching for a new Senior Coach in late 2015, having already established himself as a pivotal player for Mazenod since joining the Club in 2012. He had a decorated playing history prior to joining the Nodders, having played four years of senior VFL football with Port Melbourne and Frankston, before moving to St Bede's Mentone Tigers where he was a multiple premiership player and part of the incredible run of premierships in C, B and A Grade, playing in the A and B Grade flags. He played with St Bede's for five years before donning the Black, White & Blue as a senior player at Central Reserve.
After playing under previous coaches Adrian Connolly and Heath Black, Ben stepped up for season 2016 and led the team superbly in his debut year as Senior Coach, winning promotion to Premier B and guiding the Club to its first senior premiership since 2000.
Ben's leadership of the Club played a pivotal role in that memorable premiership – an inspirational playing role and superb leadership as coach.
Mazenod OC President, Chris Smith, thanked Ben for his unwavering dedication and commitment to the Club.
Ben's professionalism has been second to none and he has developed the playing group superbly during his three-year tenure as coach. His rare ability to mix humour, motivational stories and tactical knowledge helped him engage with players of all ages, enabling him to help our footballers become better players on the field and better people off it. He has helped drive the Club forward, introducing new technologies and enhancing communication within the playing group and amongst the coaching staff.
We look forward to the last five matches of season 2018 under Ben's leadership and are hoping that a few wins are just around the corner. We would like to acknowledge the wonderful contribution that Ben has made to the Club as a player and coach and wish him every success in his future. The Club would also like to recognise the incredible support that he has received from his wife Liz and two boys, Kai and Taj.